TVR Heritage
Trevor Wilkinson never imagined his small car repair business would evolve into the most unforgiving car brand in British history.
Wheeler Era
Feb 24, 2017, 11:10 AM
Year from :
Jan 1, 1981, 00:00 AM
Year to :
Jan 1, 2004, 00:00 AM
A chemical engineer and businessman, achieving success from supplying the oil industry, Peter Wheeler was also a TVR Taimar Turbo owner. Having a good relationship with the factory, when TVR found itself in financial trouble, Peter Wheeler was able to buy control from Martin Lilley.
Inheriting the radical Tasmin design the next step was to shoe horn the Rover V8 in and this move turned the Tasmin into the successful 350i, with many variants of Wedges, as these cars become known, to follow. Realising that the curves were missing from the TVR range, the S Series was born with clear design links back to the M Series but with hardly any components carried across. The S Series was a success and sold well.
Resurrecting the Tuscan name, TVR now launched an exciting one-make race series, in which Peter Wheeler actively took part.
In 1990 another resurrected name was seen on a TVR, being the Griffith, often considered one of Peter Wheeler's best designs. Within a year the Chimaera followed and soon became TVRs best seller. The Rover V8s used in the Griffith and Chimaeras, initially with a capacity of 4.0 litres, eventually reached a capacity of 5.0 litres providing phenomenal performance.
Following the success of the Chimaera, came the Cerbera, but for this car Peter Wheeler took the bold step of using a TVR designed engine, the AJP V8. For the Speed 12 car, the AJP V8 was pulled out to a V12 configuration, and subsequently one bank of this was used to create the Speed Six engine. With the Speed Six engine, Peter Wheeler's TVR then let loose the Tuscan (resurrecting the name for the third time!) to replace the Griffith, the Tamora to replace the Chimaera, followed in 2003 by the T350C and T350T. The T350C was then developed into the Sagaris, a true bedroom wall poster car if ever there was!
In Peter Wheeler's hand TVR had produced a large variety of iconic cars that are as popular today as when they were first built, but after 22 years at the helm, the company was sold to Nicolai Smolenski.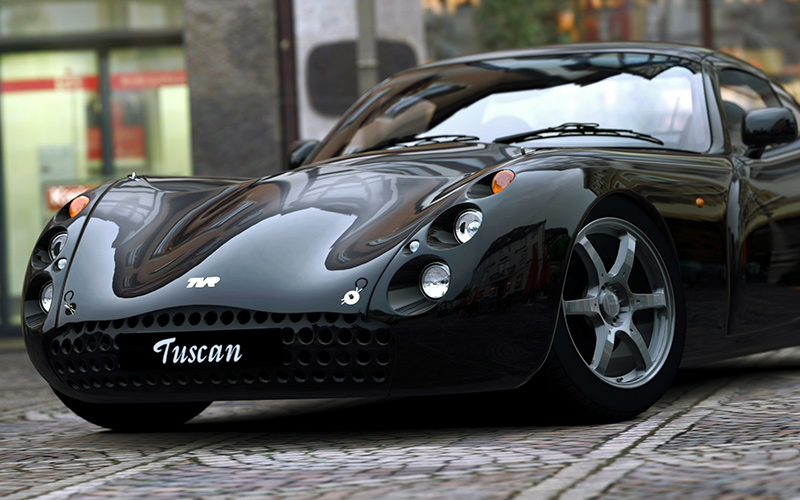 TVR Owners – a loyal, knowledgeable and very enthusiastic group of people who act as the driving force behind TVRs endeavours. It is often said that TVR owners get inspired in their younger years when the sound of a TVR catches their attention and they see a car that is different and exciting creating a memory that does not fade, an itch that can only be scratched by owernship. And once you have had one TVR....