Are you making the annual pilgrimage to Le Mans? Here's your chance to join us for the drivers' parade!
With TVR returning to Le Mans with Rebellion Racing - we present a once-in-a-lifetime opportunity to be part of the action.
Endurance racing - there's nothing quite like it to set the heart beating faster. It's the hour by hour proof of a team's skills, preparation, versatility, will, determination - and occasionally luck - to succeed. Even to finish any race of more than a few hours' duration is a huge achievement, and a true testament to all those involved, but few races test a team more than the (in)famous 24 hour endurance event at the Circuit du Sarthe.
TVR is no stranger to Le Mans, having taken part on many occasions over the years, both with privateer entries and with official factory backing; this year, for the 86th running of the event, TVR are proud to be officially returning as a member of the hugely successful Rebellion Racing LMP1 team alongside Motul and Gibson Technology. Powered by the Gibson GL458 engine, the team will field two cars in the LMP1 class and despite the bias in favour of the hybrids, are in strong contention to win the normally aspirated class, if not (whisper it, and keep those fingers firmly crossed, please!) the event outright...
For those of you that have been before, you'll know the amazing party atmosphere that surrounds the event, both trackside and in the surrounding campsites and villages - and this year, you have a chance to be parts of the very heart of the action. On Friday afternoon prior to race day, all the teams present their drivers in open-topped cars for a parade through the historic old town of La Sartre, and we at TVR have been honoured to be invited to lead the parade with the new TVR Griffith and a selection of existing TVRs. This will be a once-in-a-lifetime opportunity for those taking part, and the limited positions available will be filled by application from members of the TVR Car Club.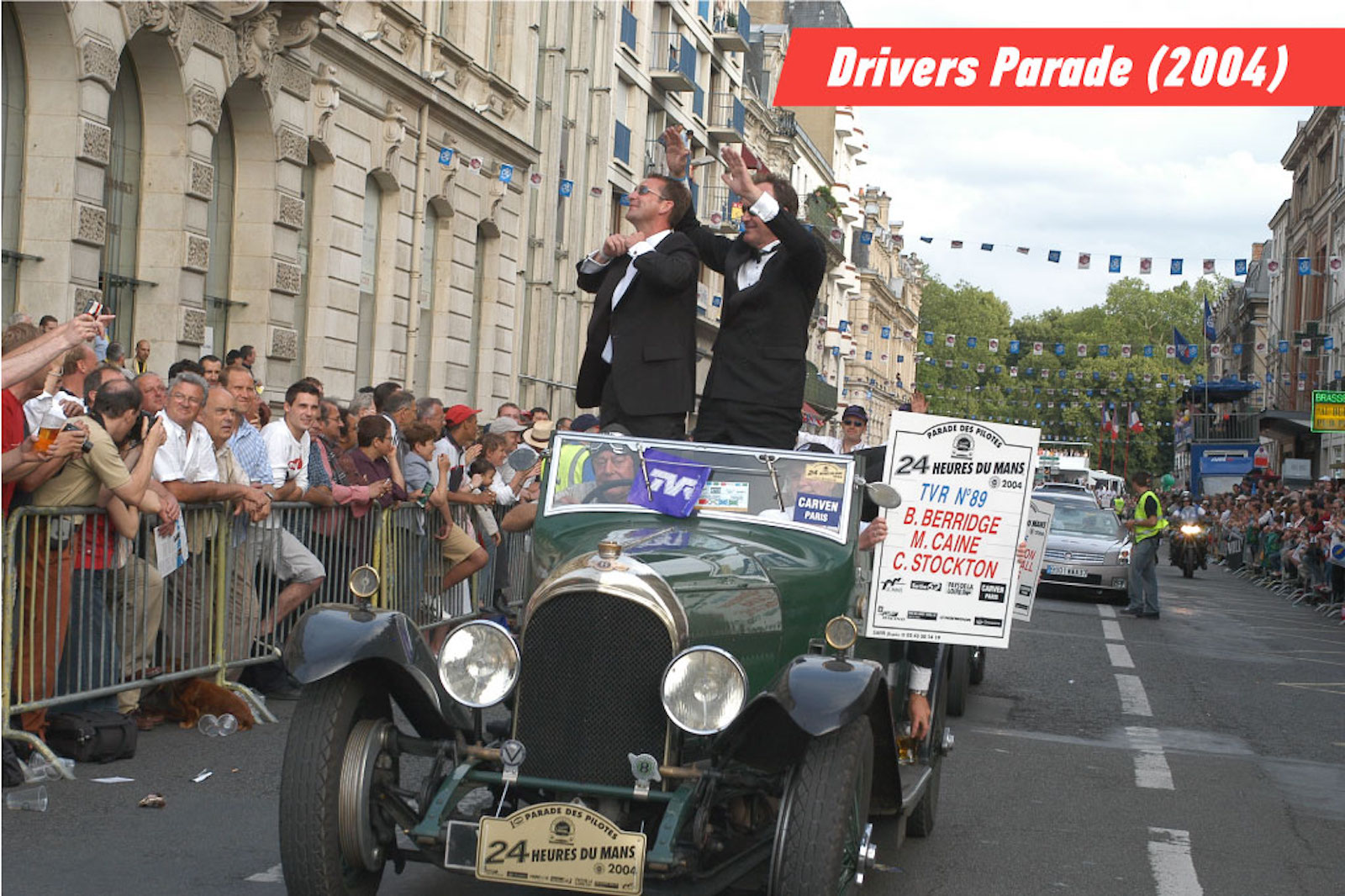 So how do you take part?
Simple - first please send your full details (including TVR CC membership number), together with a recent photograph of your TVR, to [email protected] Please include some brief details of your car, including its history if possible - and note that you need to act fast, as we will be making the selection on Friday June 8th, following which we will promptly let the winners and losers know the outcome. Please note that the roads around the area will be very busy, and you will need to be free from 2pm on Friday 15th for the pre-parade preparations (which will include a Motul sun visor being added to the car and some light cleaning / detailing), until circa 8pm when the roads are clear, so please ensure that you are available all afternoon should you wish to participate. Please also ensure your cooling system is up to scratch, as the weather will almost certainly be very hot, the pace of the parade is slow (think walking pace), and the last thing we want is inadvertently to be reinforcing any historic prejudice or stereotyping about our beloved TVRs..!
We look forward to your entires - and beyond the parade itself, we look forward to seeing everyone there during the course of what promises to be a fantastic weekend, win or lose (but especially win!)